Tambunan's Gunung Alab offers a 'lung-cleansing' experience for tourists
Jun 3, 2021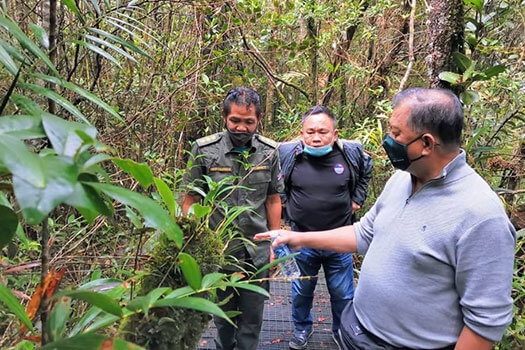 TAMBUNAN: The lush greenery and cool temperatures of the Crocker Range Park make Gunung Alab one of Sabah's best "lung-cleansing" destinations.
With temperatures ranging from 11°C to 18°C, this place has become an alternative destination for a nature adventure getaway.
Sabah Parks ranger Benidict Joseph Busin said that trekking trails from the Gunung Alab substation lead to several waterfalls that provide visitors a rich "forest-bathing" experience - a term and concept used in Japan to mean spending mindful time in nature to improve health and wellbeing.
There are three waterfalls along its 1.5km trail, namely Kitomoling Sokid, Kitomoling Tengah, and Kitomoling Siba, he said.
To reach Mahua waterfall will require trekkers to trek and climb through a 12km trail, passing Minduk Sirung peak that sits 2,075m above sea level, he said, adding that the trail to Mahua Substation will take about eight hours.
"Many locals and international tourists have trekked this trail to enjoy the fresh air and nature. There are camping grounds along the trail and some trekkers will opt to camp in the forest," Busin said.
Busin briefed Tourism, Culture, and Environment Assistant Minister and Sabah Tourism Board (STB) chairman Datuk Joniston Bangkuai who visited the area as part efforts to open up tourism products in Sabah.
Source : https://www.thestar.com.my/news/nation/2021/05/29/tambunan039s-gunung-alab-offers-a-039lung-cleansing039-experience-for-tourists