2nd Asia Parks Congress - Park enthusiasts meet in Sabah
Apr 7, 2022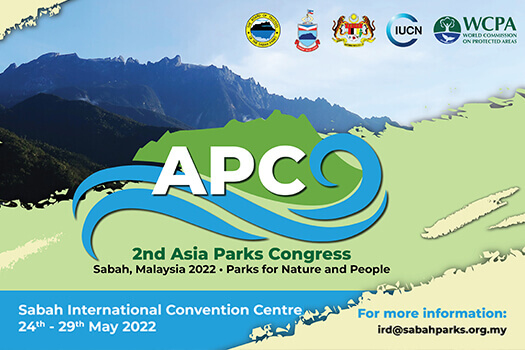 The 2nd Asia Parks Congress will convene in a hybrid format at the Sabah Convention Centre in Kota Kinabalu, Sabah, from 24 to 29 May 2022.
Representatives from protected area authorities, other government agencies, NGOs, academia, youth, the private sector, Indigenous peoples and local communities have been invited to participate in the congress. The event is organised in collaboration with IUCN, the International Union for Conservation of Nature and the IUCN World Commission on Protected Areas (WCPA).
The landmark event will attract conservation experts from across Asia and beyond, and set the agenda for the region's protected and conserved areas for the next 10 years. Registrations are being handled by the host the State Government of Sabah through the Ministry of Tourism, Culture and Environment and its agency, Sabah Parks.
For registration, visit https://2nd-asia-parks-congress.sabahparks.org.my
Source : https://www.ttrweekly.com/site/2022/04/park-enthusiasts-meet-in-sabah